UPDATE! (April 4th, 2017): The 2016 field school was a success, and we are in the process of cleaning, cataloging, and analyzing the materials that we recovered. Molly Zuckerman, Shane Miller, and I will be presenting a poster on the mortuary practices at the site at the AAPA meeting in New Orleans in two weeks, and we will also be presenting a summary of our work at the IACA conference on St. Croix in July. We plan to offer another field school during the summer of 2018, and I will post details as soon as we have any.
Recent news . . . (July 6th, 2015): Our work at Aklis is featured in the most recent issue of the Refuge Update, the newsletter of the U.S. Fish & Wildlife Service.
Unfortunately, we did not have enough students sign up for the summer 2015 field school and have had to cancel - but we will try again in 2016! I will continue updating the Facebook page with announcements and research results, or you can email me for more information!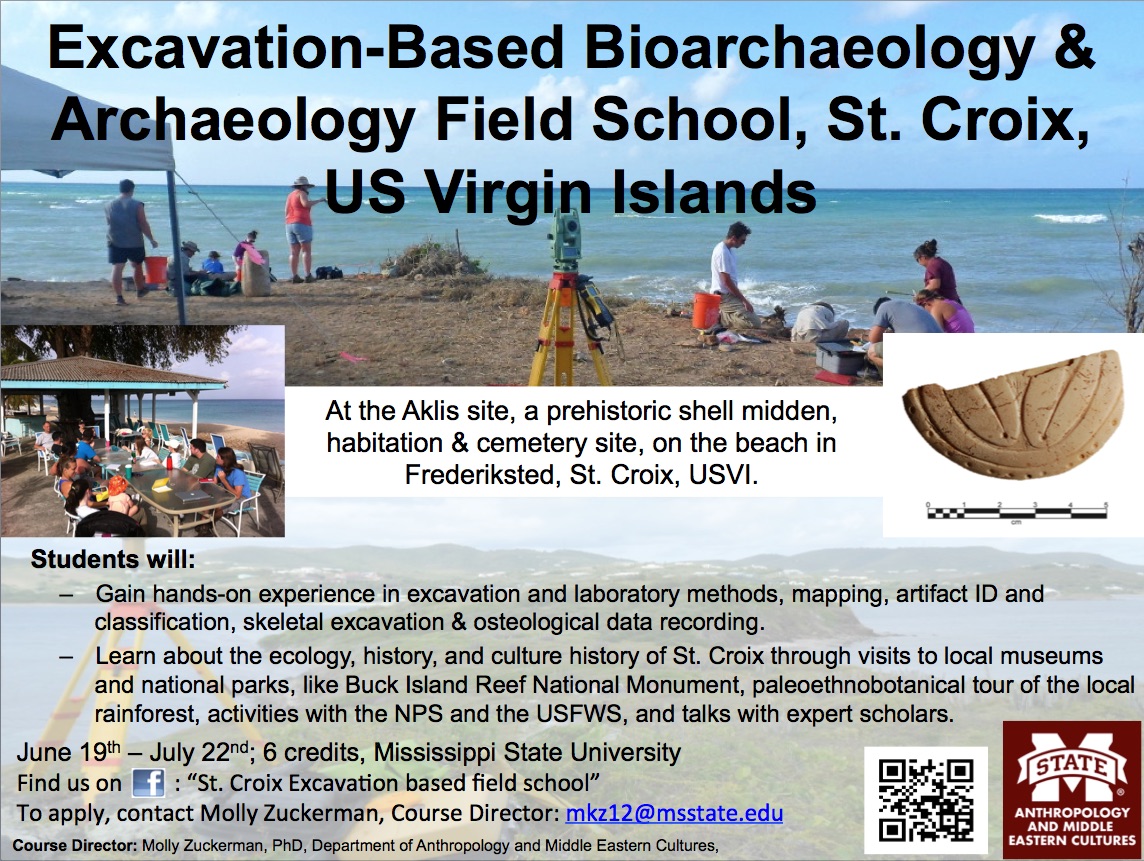 I am the Principal Investigator of the Aklis site, in St. Croix, US Virgin Islands. Aklis is a large, coastal prehistoric shell midden that contains cemetery and likely habitation components, and is threatened by erosion and rising sea levels. Through a parternship with the U.S. Fish and Wildlife Service, and with assistance from the National Park Service, I have co-directed archaeological field schools at the site in 2014 and 2016 with colleagues from the Department of Anthropology and Middle Eastern Cultures at Mississippi State University. Analysis of archaeological materia takes place on the MSU campus; if you are interested in learning more about the site, volunteering in the lab, or enrolling in future field schools, please contact me.